Chinese automotive brands are targeting Europe as they aim to expand their businesses. Dr Christof Engelskirchen, chief economist at Autovista Group, considers which of these new brands will compete with the region's established players.
Many organisations wonder which new automotive brand will succeed. It is almost impossible to say for certain, yet there are clues and cues as to which strategies have paid off so far. This can help guide thinking around which emerging (mostly Chinese) brands stand the best chance of succeeding in Europe.
Covert entry versus pureplay
New automotive brands seeking to establish themselves in Europe follow different playbooks when entering the market. For example, the world's largest producer of electric vehicles (EVs), BYD, pursues a 'pureplay' foreign-brand strategy.
Headquartered in Shenzen, China, the company initially launched the compact SUV Atto 3 and is now focused on rolling out the Seal (a mid-size sedan with a very sleek silhouette). The Dolphin will come later, which aims to take on the Volkswagen (VW) ID.3.
The carmaker appears to have learned from the mistakes of other companies that tried and failed to break into the European automotive market. BYD has focused on building up a solid dealer network in Sweden and Germany, right from the beginning.
The manufacturer benefits from the support of Hedin Group and German dealers open to new business. This is not surprising, considering the ambitions of many OEMs to transition to the agency model.
Manufacturers' brand strategies for entering the European market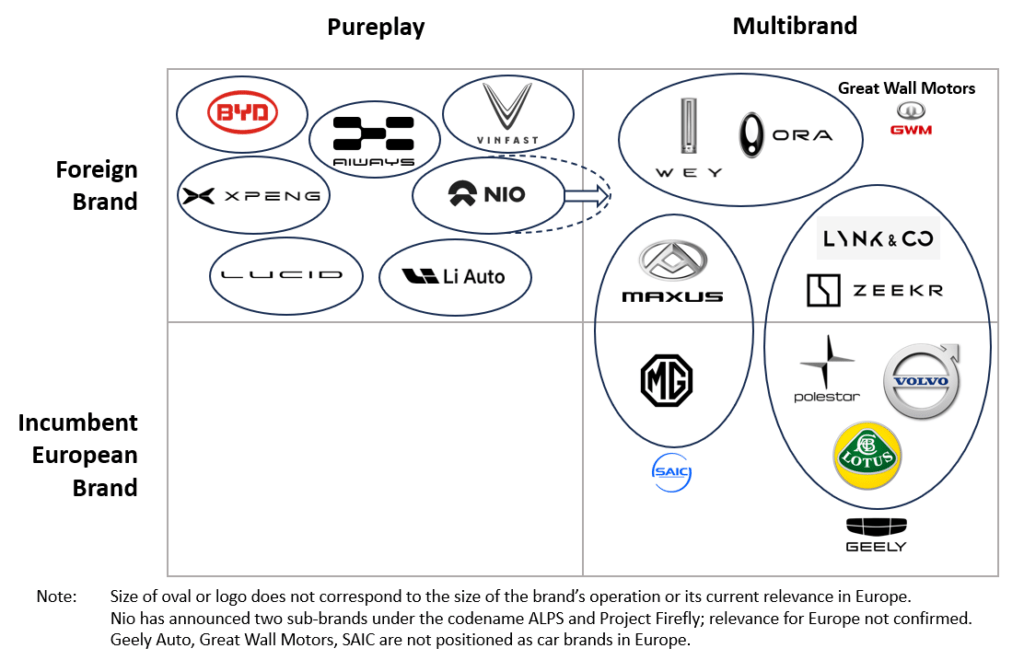 The multibrand method
Great Wall Motors picked two of its brands, Wey and Ora, to lead the way in a multi-brand strategy. The carmaker partnered with Europe's largest dealer group, Emil Frey, for both brands, with Ora also working with independent dealers.
Ora targets the lifestyle-oriented mass market with models like the Funky Cat. The brand uses TV commercials, 24-hour-long test drives and leasing rates starting at €149, backed by Santander Consumer Leasing. By leveraging several partners around subscription plans, the company has lowered the barrier to entry.
Wey targets a position as a 'premium SUV brand' and even names trim levels of its Coffee 01 model 'Premium' and 'Luxury'. Price positioned under €60,000, the plug-in hybrid (PHEV) makes for an attractive offer. It is capable of a 146km electric range (WLTP) and features an augmented reality head-up-display, facial recognition, gesture controls and E-segment-SUV dimensions.
Similarly, SAIC Motor has chosen two brands to test the waters in Europe. One is the Chinese brand Maxus, which offers all-electric light-commercial vehicles (LCVs). This includes the eDeliver 9 and eDeliver 3, as well as a diesel-powered Deliver 9. A van and pick-up were also recently added to the brand's portfolio.
With MG, SAIC chose to buy an established European automotive brand and revive it. It currently offers five models, ranging from hatchback to D-SUV. With 435km of electric range (WLTP), the best-selling MG4 is positioned at around €32,000 and starts at €199 per month for leasing options, backed by Arval. There have been announcements of an extended-range version, capable of covering 520km on a single charge (WLTP).
Geely is furthest along in terms of successfully engaging Europe and has done this with a partly covert approach, alongside initially buying Volvo. Any fears of inertia should be overcome with Geely's decision to position Polestar as an electric performance brand with start-up appeal.
Polestar shares platforms and dealer networks with Volvo, as well as benefitting from association. Another European brand Geely leverages is Lotus, which is positioned as a more premium and sporty offering, representing a more niche play. Geely is also in the process of introducing two Chinese brands to Europe, starting with Lynk&Co and soon to be followed by Zeekr.
The verdict here is that while there is obviously no right or wrong approach to entering the European market, the risks involved differ.
In the short term, there are advantages to the more covert approach of leveraging incumbent European brands when entering the region. It is fast, pragmatic, and avoids the complexities and risks of building up brand positioning from scratch.
In the case of Chinese OEMs, this approach can circumvent political sensitivities, which may interfere with an entrance introduction. If and once it works, there may be opportunities for a Europe-bound brand to be brought to other regions of the world, rather than the other way around.
Most market entrants choose to compete with a brand that is foreign to Europe. This means embarking on the complex process of building up a new brand experience in an already crowded market.
In the medium term, if successful, this strategy offers higher degrees of scalability and thrust. However, there are substantial risks involved and it is unlikely that all foreign brands will be successful. Meanwhile, launching multiple brands simultaneously can be daring as it may dilute individual efforts.
European-customer centricity
In the past, brands struggled to leave a mark on Europe due to a lack of European-customer centricity in design and product specification. For example, Lexus, Infiniti and Chrysler could not captivate the hearts and souls of fickle European customers as they had in other markets.
European markets are challenging for new entrants for several reasons. Firstly, strong domestic premium brands divide the high-margin market up between themselves, and secondly, there are many strong domestic brands. Thirdly, there exists market specificities around body, equipment style and brand preferences.
For the longest time, premium vehicles faced a barrier when it came to launching into the D-segment and above. This was because these segments were dominated by Europe's premium and near-premium brands.
Tesla was the first successful global brand to overcome this barrier, shaking the industry up and maybe even making it easier for new players to follow. However, Elon Musk's part in this success story cannot be overestimated. It may prove impossible to copy the brand's approach and experience similar levels of success.
A potentially better blueprint for how to succeed in Europe comes from Hyundai Motor Company. The carmaker learnt a lesson from the launch of the i40. The initial version fell victim to the D-segment launch barrier as well as not offering new stimuli to European customers.
Following this, the automotive group began to emphasise its European approach to design, product specification and decision making. This helped the company become highly successful in mainstream vehicle segments, not to mention its entire SUV line-up. This formed a solid foundation for upmarket initiatives, including pushing the performance brand 'N' and launching new brands like Ioniq and Genesis.
The verdict? For today and some years to come, Europe will be particularly permeable when it comes to:
Smaller/budget cars which offer great value for money,
EVs with mass-market appeal,
Design appealing to Europeans,
Technological superiority in infotainment systems and electric powertrains.
Strong European focus
A strong network and a digital user journey go hand in hand. It is unlikely that any OEM would argue otherwise. Attempts to sell vehicles without a prominent network in Europe have remained a niche play or failed completely.
Even the most digital customer journey is enabled by an omnichannel approach where customers can transition between an online and an offline experience. There are prominent touchpoints for a customer, which can be enriched via the offline experience, from vehicle inspection to test drives, then from handover to servicing. These elements are part of the brand experience and prove valuable to buyers.
The agency model may change the role and focus of some dealers in the value chain, but it does not challenge the necessity of a strong network. Furthermore, the agency model is still in 'beta mode' and it is not yet a success story.
Additionally, Chinese brands are providing new momentum when it comes to reviving traditional dealer models with both smaller independent outlets and sizeable dealer groups. The traditional dealership model has advantages over the agency model, especially when it comes to pushing registrations.
The verdict is that new brands looking to establish themselves in Europe will need:
A strong pan-European sales and services network (which can be built up country by country),
To embrace the omnichannel approach to selling vehicles,
Successful brands to have secured initial partnerships with rental and leasing companies (and other mobility companies) to quickly maximise consumer touchpoints,
To balance centralised decision-making with European and national decision-making. While this poses a major challenge, the resulting competencies enable European centricity (focus).
Scale and credibility
Considering that EVs, made up of PHEVs and battery-electric vehicles (BEVs), will likely remain the centre of attention for the coming 20 years, some new European market entrants already outshine incumbent brands in their home markets.
BYD, for example, sold more than 1.2 million EVs in China during the first half of 2023, far more than Tesla at around 300,000. Geely Auto (170,000 vehicles) ranked ahead of VW (90,000 units), while Great Wall Motors (82,000 vehicles) topped Nio, SAIC, Mercedes-Benz, Toyota and Stellantis.
The verdict is that several new entrants into Europe are highly recognised and well-practised vehicle manufacturers, with decades of experience. Size and authenticity in their home market should correlate with their ability to attract European customers.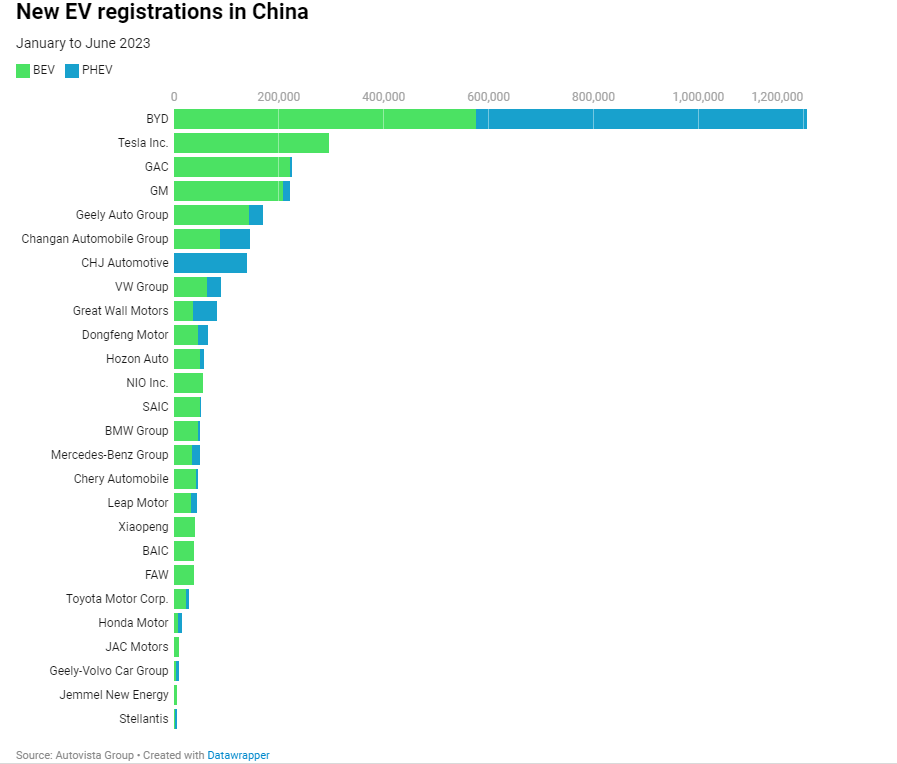 From the perspectives of technology, product and value propositioning, Europe presents a vacuum which new brands are eager to fill. Initial product reviews look promising. There is demand in Europe for affordable, mass-market-compatible electrified vehicles. Even PHEVs might gain a second wind with reliable, higher, real-life electric ranges beyond 150km.
From the new-player perspective, speed is of the essence. Currently, these companies are all largely competing for the same customer. Supply challenges are supporting new entrants too. Most new entrants choose to establish a foreign brand in Europe and that is a valid strategy. A major challenge is ensuring the enrichment of global decision-making with Europe-centric thinking to ensure a brand reaches its full potential.
This content is brought to you by Autovista24.